Loved this great review from Shelf Awareness, especially because it uses the word, "humdinger," a favorite of mine that doesn't get enough circulation anymore!
Rule of Threes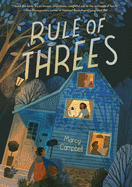 Kids in middle-grade novels tend not to have it easy. Even so, in Rule of Threes, Marcy Campbell (Adrian Simcox Does NOT Have a Horse) comes up with a real humdinger of a challenge for the endlessly sympathetic Maggie Owens, her 12-year-old narrator: Maggie learns that she has a half brother one year her senior, the product of her father's extramarital affair.
Tony's arrival in Maggie's life–and home (Tony's mom is in drug rehab so he's staying with the Owens family)–compounds her other problems: adjusting to middle school and dealing with her beloved maternal grandmother's mental decline. To take her mind off her troubles, Maggie throws herself into her school's Spirit Week decorating contest, but one of her friends slated to help is acting weird–yet another complication.
Rule of Threes works some time-tested middle-grade-novel themes–coping with a new school, coming to terms with parents' flaws, realizing that the perfect family doesn't exist–but the book's knockout premise is entirely Campbell's. Readers will be a step ahead of Maggie at times, and her behavior in a dramatic late-in-the-game scene may test credulity but, fortunately, not the reader's affection for her. Throughout this meticulously crafted novel, Maggie finds comfort in the before-and-after photos that she sees in design magazines, not realizing that her observation can apply to her reconstituted family: "It didn't matter how messy a 'before' was, because an 'after' was coming, and it would be awesome." —Nell Beram, freelance writer and YA author
Discover: In this carefully crafted middle-grade novel, a girl finds her life upended when she learns that she has an older half brother–the product of her father's extramarital affair.
Chronicle, $17.99, hardcover, 320p., ages 12-16, 9781797201238