Adrian Simcox Does NOT Have a Horse

is
 

my debut picture book, from Penguin/Dial Books for Young Readers

"A classic in the making, this heartwarming story about empathy and imagination is one that families will treasure for years to come.

Adrian Simcox tells anyone who will listen that he has a horse–the best and most beautiful horse anywhere.

But Chloe does NOT believe him. Adrian Simcox lives in a tiny house. Where would he keep a horse? He has holes in his shoes. How would he pay for a horse?

The more Adrian talks about his horse, the angrier Chloe gets. But when she calls him out at school and even complains about him to her mom, Chloe doesn't get the vindication she craves. She gets something far more important.

Written with tenderness and poignancy and gorgeously illustrated, this book will show readers that kindness is always rewarding, understanding is sweeter than judgment, and friendship is the best gift one can give."

You can find the book wherever books are sold, or order at the links below. For a signed, personalized copy, please contact The College of Wooster Bookstore at 330-263-2421 or email bookstore@wooster.edu.
Praise for Adrian Simcox Does NOT Have a Horse
"Chloe is stubborn and willful, but she listens and learns and understands. Her first-person narration is realistic, witty and endearing. Chloe wants a series. This heroine is ready for more adventures."
—The New York Times
"Affecting…Readers who loved Eleanor Estes' 1994 book The Hundred Dresses will suspect the painful truth behind the horse-owning boasts of a day-dreamer named Adrian Simcox. And they will understand the misplaced indignation of the narrator, Chloe. Empathetic readers…will be rooting for Chloe's mother who shows how a decent person behaves with someone who has less of almost everything—except imagination."
—The Wall Street Journal
"Earnestly written by Marcy Campbell, Adrian Simcox Does NOT Have a Horse is a creative and honest look at compassion… Corinna Luyken illustrates with precision and grace… School curricula that focus on acceptance and compassion will benefit from incorporating this story, which reminds all readers to look at others with empathy, because they may find a friend."
—BookPage
"The tale is poignant… The art is an excellent complement [with] brushy foliage that repeatedly reveals Adrian's imaginary horse. A good conversation starter."
—Kirkus Reviews
"A beautifully illustrated book with a subtle message about poverty, empathy, and compassion."
—Brightly
"A moving story about developing empathy, with beautiful illustrations to pore over."
—Booklist
 "An important story about empathy and kindness…A beautifully crafted picture book that has a way of drawing people in."
—The Baltimore Sun
"Debut author Campbell has penned a gentle, enjoyable story about accepting your friends as you find them. The story finds its perfect accompaniment in Luyken's The Book of Mistakes with this book's muted, fall-tone ink, colored pencil, and watercolor illustrations…This warm tale and its exquisite illustrations is well worth a purchase."
—School Library Journal
"Newcomer Campbell explores with sensitivity the way Chloe opens her heart to Adrian… Luyken's delicate drawings add welcome depth."
—Publishers Weekly
"A promising debut for Marcy, and what Corinna does in these illustrations is a sight to see."
—Seven Impossible Things Before Breakfast blog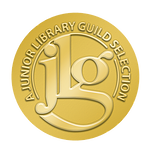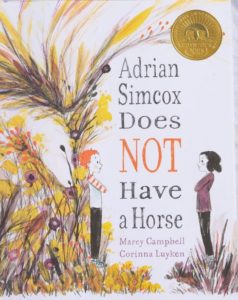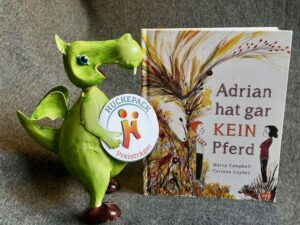 Coming Next
I'm excited to announce that my first middle-grade novel, "Rule of Threes" (formerly "Rearranged") will be published in spring 2021 by Chronicle Books. I'm also publishing another picture book with Corinna Luyken! "Something Good" is coming September 2021 from Little, Brown (formerly with Disney). A picture book titled "The More You Give" is in the works with Knopf as well.