So sorry I've been missing from this blog all summer. I've been busy–hanging out with my kids, attending a lengthy writing conference (more on that later), oh, and building a playground! Cool pics of that here.
The kids are returning to school next week, and so I plan to return to my *weekly posts. In the meantime, here's a fun project I did today, which involves BOTH of the topics of this blog—books and DIY home projects.
A long time ago, I saw some collages made from old newspapers in a fancy decorating catalog. They cost hundreds of dollars. I muttered "I could do that," and since my husband heard me and replied, as he is wont to do, "Why don't
you, then?" I made this dress.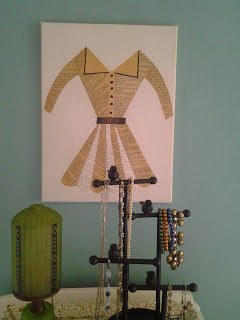 It's cut from "To Kill a Mockingbird," which was a book I returned to again and again as an adolescent, and "The Complete Stories of Flannery O'Connor," which was a book I bought for myself in college when I decided I really wanted to be a writer.
The dress has been hanging for awhile now on our bedroom wall, on my side of the bed, and I had been meaning to make a collage for my husband's side as well. These things are very simple to make and would be a fun project to do with kids (though at the time I made this, my kids were getting their last precious minutes of Minecraft in before school starts so they refused to assist).
You can Google coloring pages to find artwork if you aren't good at freehand drawing (like me). Then, just print the picture out, resizing on the copier if needed. Cut it into pieces as you see fit. Trace the pieces on pages of a book, cut and reassemble on your background. I used a plain canvas, but this could be fun to put on top of a tag sale painting or something, wouldn't it? I used Mod Podge to attach my pieces, and put a coat of Mod Podge over the entire thing afterwards.
The hubs is a herpetologist (hence the frog) who teaches, among other subjects, evolutionary biology (hence the Darwin, under the frog's eye). Now we have a matching piece for his side of the bed!