Hi, friends. Today I bring you the happy nice time DIY story of my recent bathroom renovation. As always, this was done on the cheap. And so, the "renovation" did not include any sledgehammers. In fact, the only things removed, and replaced, from the original space were a towel bar, a toilet seat and a light switch plate. As you might expect, I made use of lots of paint.
Take a look at the "before" shots of my blah first-floor powder room. It's a teeny space (5 1/2' x 3 1/2') just off our kitchen. Given its prime location, this is the bathroom our family uses most often and is also the bathroom used by guests. The color on the walls is that sage-green so popular in the 90s that looks gray in low light. It was very dark. It depressed me just walking in there.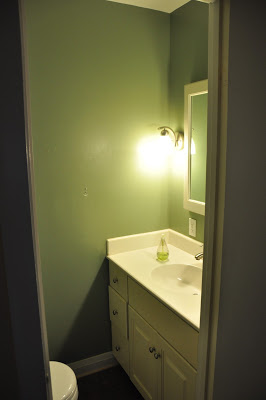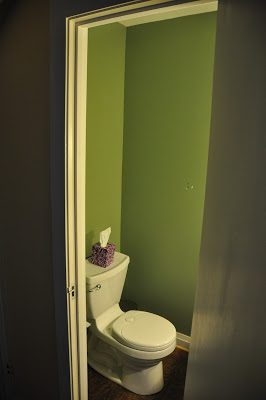 Enter the ombrѐ. This is a technique by which several hues of a color are put on a wall (or a fabric or your great-aunt-bertha's cuckoo clock) in order of gradient, typically from light to dark, with dark being at the bottom. This is what I did to the walls with a sunny yellow color palette, carefully taping off each stripe. I like the effect, though it didn't turn out exactly as I thought it would. The colors on the swatch are more much defined than they are on my walls. I guess this is just due to lighting. Oh well.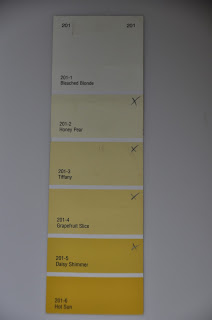 Our vanity and mirror were in fine shape, structurally, but sported stains and worn paint. My solution? Paint, of course. I decided to go dark, in order to match the black and brown linoleum floor. This is a really easy technique. I also did it on my radio-turned-kitchen-island. I just brushed on some dark brown paint, let it dry, then dry-brushed black over it, leaving areas where the brown shows through. This was all done in an afternoon. I liked the hardware, so I left that alone. I did, however, replace the dingy white caulk around the sink (this made a huge improvement).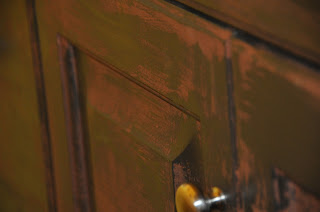 A sidebar on towel
bars:
Have you ever gone into a perfectly decorated bathroom in which there are numerous coordinated towels all lined up neatly on a bar, smaller towel on top of smaller towel until you get to the twee little fingertip towel on top?
I never want to dry my hands in these
bathrooms!
That's because I know I'm going to have to make sure the towels are back in their precisely perfect spots afterwards. Also, the people who do this to their towels…do not have kids. My bathroom had one of those bars, which I promptly removed in favor of the hook you see here. Towel hooks are your best friend, especially if you have children. They come in all sorts of styles, and pretty much any kid can get a towel on a hook and still have it look neat (most of the time).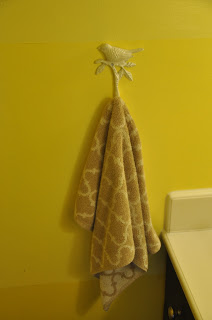 I did splurge a bit on accessories with this project. I swapped out my old potty training toilet seat (the kids have been potty trained for many years!) for a bamboo one. I also bought this sign at a local shop. You remember the novel I just finished, right? The one about the happiness researcher? Well, I happened upon this sign recently, just as I was finishing revisions, and it so perfectly captured one of the main themes of the book. I usually don't buy accessories that I could make myself (this sign would be pretty simple to do), but fate seemed to be saying something to me, so I brought it home.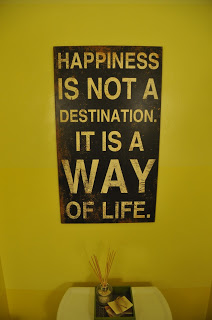 Reader Interactions