School Visits | Virtual Visits | Classroom Activities
School Visits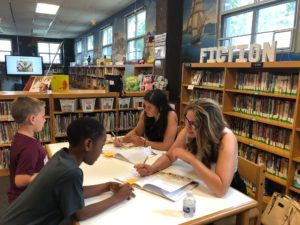 Are you interested in having Marcy visit your school or library? Marcy typically speaks to kids in grades K-6 for up to 60 minutes. She has given talks that are more inspirational in nature to encourage writing and reading, as well as talks focused more specifically on the writing process, from idea generation to published book.
As a former writing teacher, Marcy is also skilled at leading smaller group workshops on specific aspects of the writing process. She also speaks to adult groups about her path to becoming a published author. Marcy is happy to tailor a presentation to fit the needs of your group.
"Our students thoroughly enjoyed their time with Marcy. With her personal connections and a speaking style that only an author possesses, she had everyone (kids & adults!) engaged with the details of her background, the maturation of a story, and the inner workings of a collaboration with an illustrator. Everyone in our school who interacted with Marcy that day left with inspired creativity and a feeling that they had been a part of something special."
—Trey Veazey, The Walker School, Marietta, GA
"It was an honor and privilege to have Marcy Campbell visit our school!  She presented a beautifully prepared presentation about her journey to becoming a writer for the students in grades 2-4, and met in a more intimate setting to read and talk with our students in kindergarten and 1st grade.  She graciously ate lunch with different groups of students and responded to their questions with knowledge, encouragement and enthusiasm.  It was a day full of literacy, learning and fun!
—Julie Beckett, Parkview Elementary, Wooster, OH
Honoraria
For local schools (within 60 miles of Wooster, OH): $1,000 for three or four talks/workshops in any combination in a single day
For a single presentation or workshop at a local school: $300
For all other locations: $1,200 for three or four talks/workshops, plus all applicable expenses (airfare or mileage, lodging, meals)
For an excellent overview of why authors charge for school visits, see this post on author Caroline Starr Rose's blog.

Ready to schedule a visit? Contact Marcy at marcycampbellbooks@gmail.com.
FREE Video Chats
Each school year, I make time to do some free, virtual school visits for classrooms that are familiar with one, or more, of my books.

During this visit, for elementary school students, I talk briefly about my writing life and process as a writer, read your choice of "The More You Give,"  "Something Good" or "Adrian Simcox Does NOT Have a Horse," book-talk a couple other books I'm currently reading and take questions. I am also available to speak with middle-school classes about the writing of "Rule of Threes" and answer questions.
Sessions are between 20 and 30 minutes. If this interests you, contact me at marcycampbellbooks@gmail.com.
Classroom Activities
Feel free to download and use these handouts with your students.