School Visits and Skype Sessions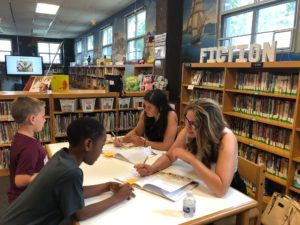 I am in the process of developing school programs in conjunction with my debut picture book, "Adrian Simcox Does NOT Have a Horse." That information will be posted here as soon as it is available.
I'm also pleased to offer FREE, First Friday Skype Visits on a first-come, first-served basis. These will be held March 1st, April 5th, and May 3rd, 2019, with start times between 9:30 and 2:30 EST. I've reserved time for four visits on each day.
During this visit, I will talk a bit about my writing life and process as a writer, read "Adrian," book-talk a couple other books I love and take questions. Sessions are between 20 and 30 minutes. If this interests you, contact me at marcycampbellbooks@gmail.com.
Activities
Feel free to download and use these handouts with your students.