School Visits | Virtual Visits | Classroom Activities
School Visits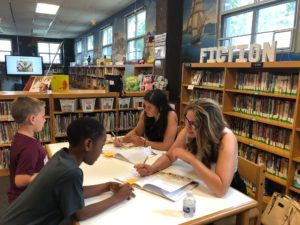 Are you interested in having Marcy visit your school or library? Marcy typically speaks to kids in grades K-6 for up to 60 minutes. She can tailor her presentations to fit your age range and time requirements. Here are some popular options.

 
Presentations and Writing Workshop Offerings for Kids
Presentation
The Writing Process: From brainstorm to bookstore
What does it take to get a book on the store or library shelves? A dream, and patience, and a lot of hard work! Marcy will share stories from her own childhood as a dreamer and storymaker. Students will then follow the journey of her first published book, from initial idea, to drafting, getting feedback, to revising again and again, to collaborating with an illustrator, and finally to publication. With the help of some props and volunteers, students will look at all the different "hats" authors must wear. Students will come away with a better understanding of how professional authors work and learn that the methods the "pros" use are very similar to the ones they use in class. They'll come away inspired to create their own stories.
Presentation/Writing Workshop
Everybody Has a Story
To be good storytellers (and humans), we need to be able to see situations from the points of view of others. In this presentation, students will take a close look at the topic of empathy, through the discussion of picture books, and examine the choices characters make on their paths toward a better understanding of each other.
A writing workshop extension to this presentation will allow students to, first, explore their own stories in fun, written ways. Then, they will put themselves into another's shoes (quite literally!) to create a story outline that could be the basis for a longer work of fiction.
Writing Workshop
Roller Coaster Writing: Creating a story that really moves
You can have great characters and a great story idea, but without careful attention to plot construction, a narrative can still fall flat. Keeping readers engaged requires a careful look at conflict—defining it, creating it, escalating it, and eventually, resolving it.
Using a roller coaster as a model, Marcy will explain the elements of plot structure in a fun, and easy to understand, way. Though some students may be familiar with a standard, three-act plot structure used in analyzing literature, Marcy will introduce them to an emotional plot structure best used by writers to create compelling plots, no matter what type of story they're telling.
Students will make ample use of freewriting techniques to develop and deepen conflict for some randomly chosen characters. They will then take these characters on a wild ride, while learning all the major elements of a successful plot. At the completion of the workshop, students will have an outline to use in the creation of a longer work.
Presentations for Adult Groups (especially educators!)
A Day in the Life of an Author
You love children's literature. You may even teach reading and writing yourself. But do you know how professional authors get their books on the shelves? Marcy will share her journey, from her earliest writings to her first published book and discuss the steps involved. There are many misconceptions about the publishing world! She will address them, answer all your questions, and leave you inspired to help your students, or others, to work toward their writing goals.
*Don't see what you're looking for? Contact Marcy at marcycampbellbooks@gmail.com, and she can tailor a visit to meet your students' needs.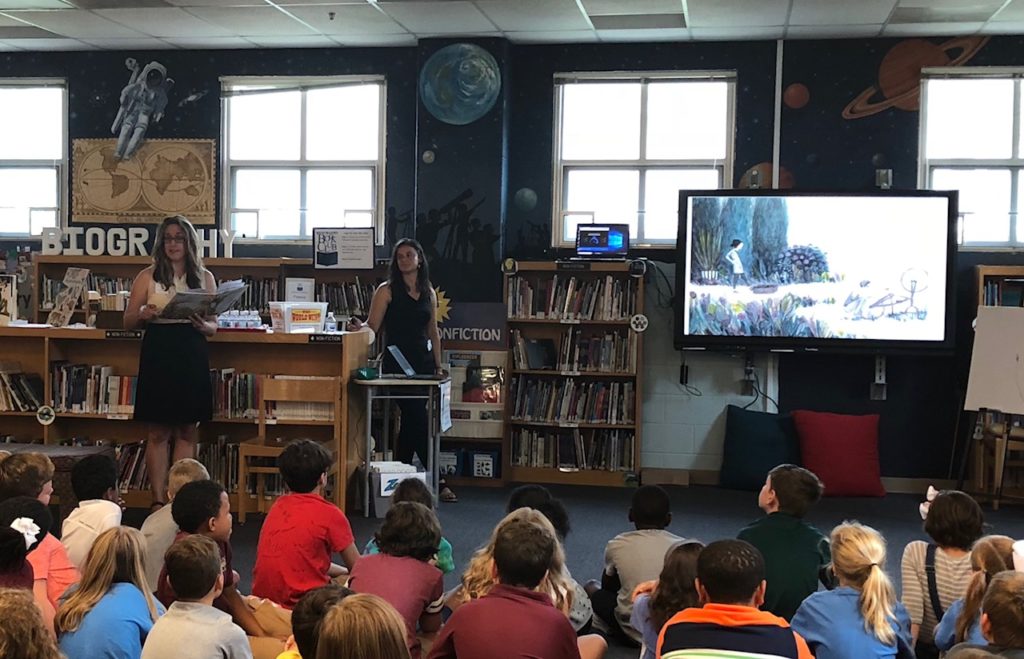 "Our students thoroughly enjoyed their time with Marcy. With her personal connections and a speaking style that only an author possesses, she had everyone (kids & adults!) engaged with the details of her background, the maturation of a story, and the inner workings of a collaboration with an illustrator. Everyone in our school who interacted with Marcy that day left with inspired creativity and a feeling that they had been a part of something special."
—Trey Veazey, The Walker School, Marietta, GA
"It was an honor and privilege to have Marcy Campbell visit our school!  She presented a beautifully prepared presentation about her journey to becoming a writer for the students in grades 2-4, and met in a more intimate setting to read and talk with our students in kindergarten and 1st grade.  She graciously ate lunch with different groups of students and responded to their questions with knowledge, encouragement and enthusiasm.  It was a day full of literacy, learning and fun!
—Julie Beckett, Parkview Elementary, Wooster, OH
Honoraria
For local schools (within 60 miles of Wooster, OH): $1,000 for three or four talks/workshops in any combination in a single day
For a single presentation or workshop at a local school: $300
For all other locations: $1,200 for three or four talks/workshops, plus all applicable expenses (airfare or mileage, lodging, meals)
For an excellent overview of why authors charge for school visits, see this post on author Caroline Starr Rose's blog.

Ready to schedule a visit? Contact Marcy at marcycampbellbooks@gmail.com.
FREE Video Chats
I'm pleased to offer free, First Friday (they aren't always on Friday due to changes in my schedule, but I do love the alliteration!) video chats on a first-come, first-served basis. I am generally able to accommodate 3-4 visits per day. The following dates are available for spring 2022: March 3rd, April 1st, May 6th.

During this visit, for elementary school students, I talk a bit about my writing life and process as a writer, read your choice of "Something Good" or "Adrian Simcox Does NOT Have a Horse," book-talk a couple other books I'm currently reading and take questions. I am also available to speak with middle-school classes about the writing of "Rule of Threes" and answer questions.
Sessions are between 20 and 30 minutes. If this interests you, contact me at marcycampbellbooks@gmail.com.
Classroom Activities
Feel free to download and use these handouts with your students.