I have two books coming out in 2021! My middle-grade novel, "Rule of Threes" will be published by Chronicle Books on May 11th. My picture book, "Something Good," (illustrated by Corinna Luyken) will be published by Little, Brown Books for Young Readers on September 7th. I will add events here related to these two releases as information becomes available. Due to COVID-19, events may be virtual and will be noted as such.
January 22, 2021
American Library Association Midwinter Meeting, Speed Dating with librarians (virtual)
February 3, 2021
World Read Aloud Day (WRAD), Q&A on writing with students around the country (virtual)
February 5, 2021
Guest speaker, children's literature course, College of Wooster Education Department, Wooster, OH
March 5, 2021
Free Friday School Visits (virtual)
April 16, 2021
Free Friday School Visits (virtual)
May 11, 2021
RULE OF THREES Book Birthday! Middle-school event hosted by Copperfield's Books (virtual)
May 15, 2021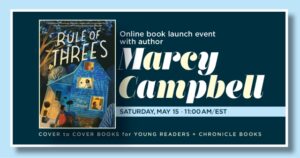 RULE OF THREES book launch hosted by Cover to Cover Books for Young Children on Saturday, May 15, at 11 a.m. EST.
Virtual. Open to the public. Register here. 
May 20, 2021
School Library Journal (SLJ) Day of Dialogue Panel (virtual) at 4:00 p.m. EST. Free event open to educators.
Picture This: Community
From joyful celebrations of the streets we live on to stories that offer discussion potential, these picture books get to the heart of what community means, and the people who comprise one.
Carmen T. Bernier-Grand, We Laugh Alike/ Juntos nos reímos: A Story That's Part Spanish, Part English, and a Whole Lot of Fun (Charlesbridge)
Marcy Campbell, Something Good (Little, Brown)
Ian & Sarah Hoffman, Jacob's School Play: Starring She, He, and They (Magination Press)
Tricia Elam Walker, Dream Street (Random)
June 3, 2021
Ohio Middle-Grade Author panel, hosted by the Cuyahoga County Public Library (virtual) at 7 p.m. EST, with me, Tricia Springstubb, Jasmine Warga and Jenn Bishop. Check back for more details and registration.