January 22, 2021
American Library Association Midwinter Meeting, Speed Dating with librarians (virtual)
February 3, 2021
World Read Aloud Day (WRAD), Q&A on writing with students around the country (virtual)
February 5, 2021
Guest speaker, children's literature course, College of Wooster Education Department, Wooster, OH
March 5, 2021
Free Friday School Visits (virtual)
April 16, 2021
Free Friday School Visits (virtual)
May 11, 2021
RULE OF THREES Book Birthday! Middle-school event hosted by Copperfield's Books (virtual)
May 15, 2021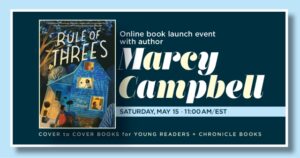 RULE OF THREES book launch hosted by Cover to Cover Books for Young Children on Saturday, May 15, at 11 a.m. EST. Virtual. Open to the public. Register here. 
May 20, 2021
School Library Journal (SLJ) Day of Dialogue Panel (virtual) at 4:00 p.m. EST. Free event open to educators.
Picture This: Community
From joyful celebrations of the streets we live on to stories that offer discussion potential, these picture books get to the heart of what community means, and the people who comprise one.
Carmen T. Bernier-Grand, We Laugh Alike/ Juntos nos reímos: A Story That's Part Spanish, Part English, and a Whole Lot of Fun (Charlesbridge)
Marcy Campbell, Something Good (Little, Brown)
Ian & Sarah Hoffman, Jacob's School Play: Starring She, He, and They (Magination Press)
Tricia Elam Walker, Dream Street (Random)
June 3, 2021
Ohio Middle-Grade Author panel, hosted by the Cuyahoga County Public Library (virtual) at 7 p.m. EST, with me, Tricia Springstubb, Jasmine Warga and Jenn Bishop. Free event open to the public.
October 19, 2021
SOMETHING GOOD Book Birthday! Click to order.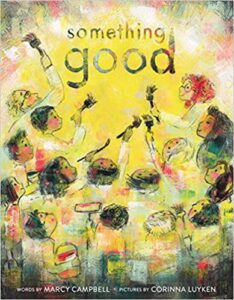 October 28, 2021
In-person Book Launch event at the Wayne County Public Library, Wooster, OH. Come to hear about the making of the book and stay for crafts and activities. Book signing to follow. All of my books will be available for sale, and we will raffle off a book at each event. This event will be held twice, at 4:30, and again at 6:30, so choose the time that better fits your schedule. Click here https://wcpl-oh.libcal.com/event/8149078 for the 4:30 PM session or click here https://wcpl-oh.libcal.com/event/8149087 for the 6:30 PM session.

November 6, 2021
Buckeye Book Fair. In-person event featuring more than 100 Ohio authors and illustrators.
9:30 a.m. to 4 p.m., Greystone Event Center, 50 Riffel Rd., Wooster, OH
November 13, 2021
Presentation and Book Signing co-hosted by Cover to Cover Books and the Upper Arlington Library. In person, no registration required.
Location:
Upper Arlington Library
2800 Tremont Rd.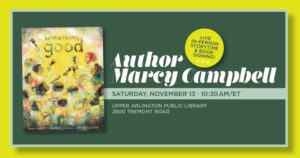 November 15, 2021
Guest speaker (with Corinna Luyken) at Mentor Text Monday, hosted by DEI Literacy (virtual). This is a series of Monday evening webinars for educators. For more information and to register, visit DEI here.