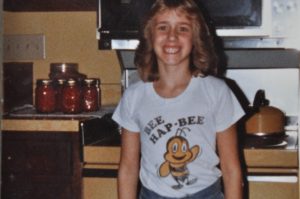 I've been putting books together since I was five, when they were just stapled pages of pictures I drew. I stopped drawing sometime in elementary school (thanks to the B's I earned in Art!) but I've never stopped writing. My debut picture book, "Adrian Simcox Does NOT Have a Horse," illustrated by Corinna Luyken, was published by Penguin/Dial Books for Young Readers in August 2018. Like Adrian, I do not have a horse, but I did grow up on a dairy farm in Illinois with cows, chickens, cats and dogs, and the occasional pig or duck.
I've published many short stories, essays, and humor pieces for adults in literary journals and magazines, including Salon, Electric Literature, The Rumpus, and The McSweeneys Internet Tendency. My essay in Salon, on creativity, provides more detail about my development as an artist.
Unlike many authors, I did not grow up in a book-filled home, but I wanted books so badly, that they became, and remain, some of my most treasured objects. We did have a set of encyclopedias, however, in my childhood home, and I spent many rainy afternoons reading them. I did not have a public library card, and my little school had only a makeshift library in a conference room.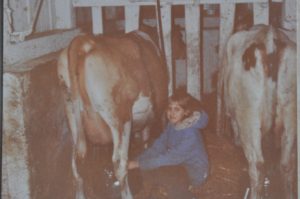 Today, I find libraries to be the most magical of places and am quite at home in them, dividing my writing time between a college library just down the street and my own closet-office. When I travel, I love to check out the library and bookstores of the town I'm visiting.
In my former professional life, I worked in public relations, serving clients ranging from robot manufacturers to watershed districts. I can still crank out a press release in my sleep! As a teen, I had many jobs that I didn't keep very long, including waitressing, telemarketing, cleaning dog cages, scooping ice-cream (free samples!), and working at a clothing store where I once spent the afternoon in the window pretending to be a mannequin. Through it all, I had a passion for story-telling, and I kept writing whatever idea came into my head in whatever form that idea wanted to take, publishing here and there, until one amazing day, when my picture book manuscript was plucked from the slush pile of agent Steven Malk, and everything changed.
I live in northeastern Ohio with my husband, children, a rescue dog named Turtle, and three formerly stray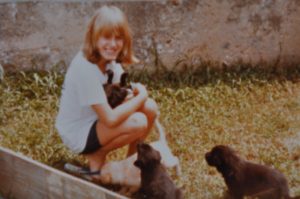 cats, one of which I found picking through the garbage at the little league baseball diamond. I have a great love of animals and a high degree of suspicion of people who don't. I also love soft pajamas, a bed full of pillows, and a fresh stack of books, preferably combined. I adore coffee and chocolate, also, ideally, combined.
I am currently at work on my second middle-grade novel and more picture books. When I'm not writing or reading, I enjoy long hikes in the woods. I get some of my best ideas out there, and also in the shower, but a long hike is much more ecologically responsible than a long shower. You can read more about my books here or contact me here if you have a question or want to find out more scintillating details about my life.