I haven't posted a Before and After in awhile, but rest assured, I still have projects up my sleeve. Our dining room hadn't been touched since we moved in 11 years ago. It was fine, but wasn't especially pretty. We had a huge table that took up most of the room. Once I replaced that with one that better suited our family of four, I had space for a storage piece, and found this interesting dresser at Goodwill. I fell in love with the cabinet door, but as you can see, the finish was pretty bad.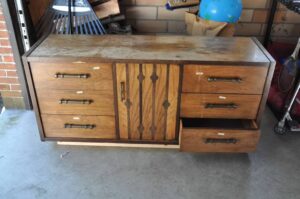 This was my first attempt at staining. I went with a walnut stain and only did a light sanding first, which means those imperfections, especially on top, are still there. I wanted to see how it looked and decided I could always sand it all the way down for a smooth finish if I didn't like it, but after sitting with it a couple days, the patina really grew on me, so I left it alone. A couple coats of polyurethane gave it a nice sheen.
I painted the drawers a royal blue originally, but decided that was too light and decided to repaint in navy, which matches my curtains. I had planned to replace the drawer pulls, but because this piece is decades old, the size of the pulls isn't standard anymore. I spray-painted them instead and really like how the gold pops against the navy drawers. A little accessorizing, and I was done. This piece provides tons of storage and, should I ever host a party again with platters of food (one can dream), will provide a nice spot to serve.