I was so thrilled to get this review from Kirkus. They have some tough reviewers over there, and a starred review is a really special thing!
SOMETHING GOOD
When something bad is found on the wall in the girls' bathroom at school, an entire class must learn what it means for their community.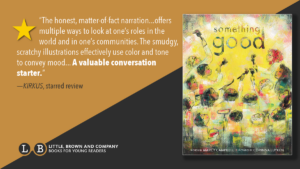 A first-person narrator tells the tale of the day "the bad-something" was found on the wall. All the girls are called to the principal's office. Mrs. Martínez asks them who did it and tells them that this will not be tolerated. The narrator and her friends sneak into the bathroom to see what was written, and seeing it makes them feel worse. Everyone finds out what the "bad-something" was (readers do not), and people begin to eye one another suspiciously, wondering who is guilty. Parents are affected, and the classroom dynamic is strained, but slowly, the school takes steps to remind the community that they are better than this incident. The children spend days making art on the wall.
When they worry that the "bad-something" is still there under their beautiful contributions, they talk and write poems about how their painting has more good than bad in it, and so does the world. The honest, matter-of-fact narration places readers squarely in the shoes of the child in the troubled class and offers multiple ways to look at one's roles in the world and in one's communities. The smudgy, scratchy illustrations effectively use color and tone to convey mood, with realistically diverse characters and abstract representations of the joyful art they create. (This book was reviewed digitally.)
A valuable conversation starter. (Picture book. 4-12)