It's so much fun to take something that's not getting much use and turn it into something both practical and beautiful. In my dining room, I'm currently using vintage test tubes as flower vases. In the living room, an antique shadow box explaining the tadpole to frog life cycle does a turn as our end table. And in the kitchen, I've just completed the transformation of this 1930s radio into an island.
I have a thing for old radios. Maybe it's my fond remembrance of writing up the news for a station in Winona, Minnesota, during my college years. But whatever the reason, I always stop to admire radios when I go antiqueing. I bought this one almost 10 years ago. Sorry to say, I didn't take a before picture, but the piece had a poorly done stain job, and I always meant to refinish it. It never actually worked as a radio, and I had little desire to learn how to fix it, but it was a decent piece of furniture in our living room for many years.
Then, we moved, to a house whose small kitchen has SIX! doorways/doors. I wanted more storage, and also a place where the kids could sit and have a snack or work on something while we're cooking. I shopped around. Nothing was the right size or price. Then, my eyes fell on the radio I already owned. If you've never opened one of these things up, you'd be amazed how much space there is inside, once you gut it. There's a huge main compartment where the speaker was, another compartment where the tubes were, a pull out drawer which used to house the record player and a cubby for holding records (now wine).
I painted the whole thing in a chocolate brown, then dry-brushed black over top. I couldn't find butcher block at a good price, so we bought an IKEA solid beech table, tossed the legs aside, and attached the table top with some glue and screws. Decorative brackets added a nice touch, as did the fabric I attached to the piece of plywood that used to hold the speaker. The old diner chairs are from a local thrift stop.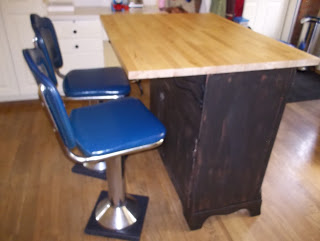 I love, love, love this island! And now I'm eyeing all the other stuff in the house and thinking about what it could become. Hmmm, the dog is about the right size for an ottoman…